This article will show you how to free up disc space on your device's internal memory. You don't need a computer to follow these instructions. You might, however, need a Memory Card in your device.
Some symptoms of devices with memory full:
The Camera takes photos that aren't saved in Gallery
Items in the Gallery/Media player disappear and reappear from time to time
Notifications of low memory and disk space
Inability to download system updates due to low memory, or you can't get past the "Optimizing" phase
Device functioning seems slow.
To read about transferring files between your device and a PC, please see the following articles for Windows and Linux users, and for Mac users.
CONTENTS
1. Determining the amount of free space on your device
2. Using File Manager to transfer files onto a Memory Card
3. Deleting the data held by some Android apps
4. Resetting to factory settings


1. Determining the amount of free space on your device
To find out the current status of your mass memory (disk space) on your device, you can go to Settings > Storage:
"User data" circle represents the memory amount used (in gigabytes) on your device, and you see the available free space next to it.
Tap on the circle to see more specified information about what is taking up your memory:
Should you suspect that the figures in "User data" are not accurate, please try the "Refresh" function in the pulley menu.
It is possible to get an even more accurate report on the biggest directories in the /home partition. This requires the super-user (root) rights (see this article):
devel-su
du -xm /home | sort | tail -20 |  sort -nr


2. Using File Manager to transfer files onto a Memory Card
For this method you will need a Memory Card (16 GB recommended) in your device.
1) Go to Settings > Storage
2) Tap on "User data"
3) Pull down the pulley menu and select "File manager":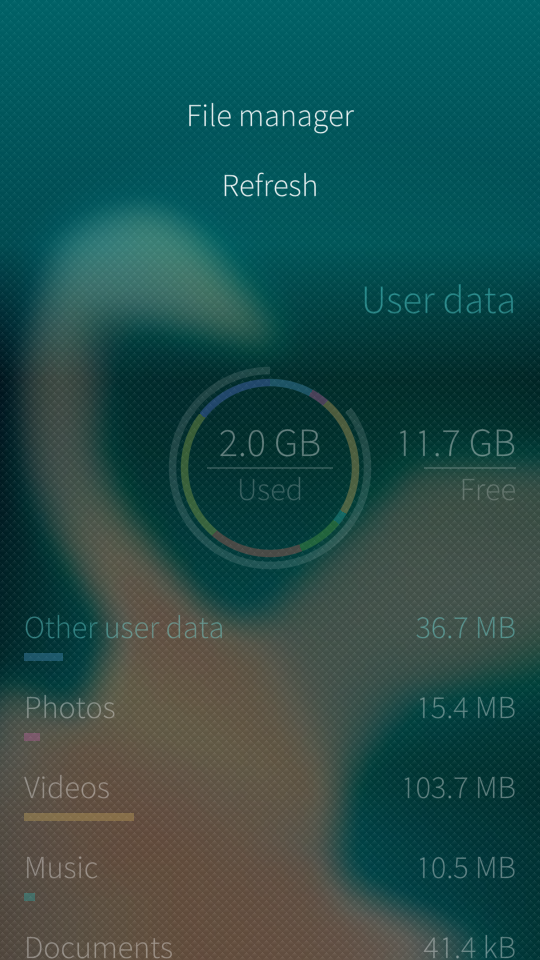 4) You will now see the list of folders located under "nemo":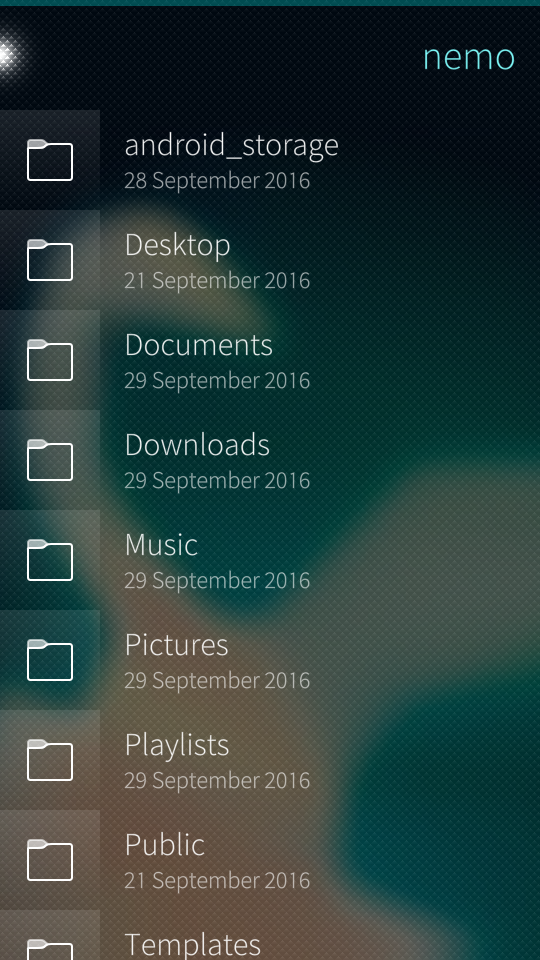 Note: As an example, we will move the Pictures folder in its entirety to the Memory Card.
5) Now long press the Pictures folder and select "Copy":
6) Now go back to Storage main view and tap on "Memory card" circle
7) Once there, select "Paste" from the pulley menu above: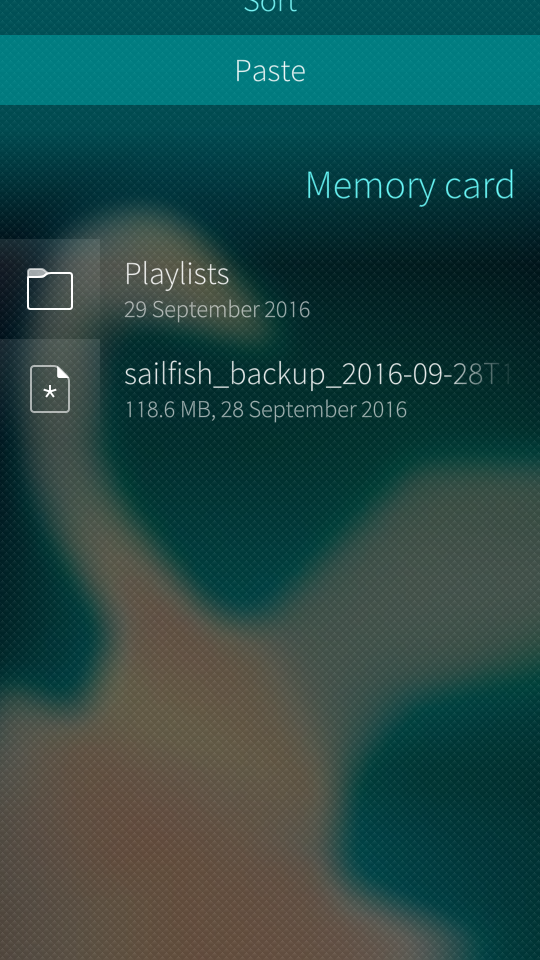 File Manager will now begin to transfer the Pictures folder on to your Memory Card. Another good source of more space is the "Videos" folder which contains all video clips recorded with the Camera.
NOTE: To avoid the need to do the file transfer again we recommend that you insert an SD memory card (a 32 GB one would be good) to your device and then let the camera to store the pictures and videos directly to the card. The setting for this is in Settings > Apps > Camera. Select "Memory card" for Storage.


3. Deleting the data held by some Android apps
Some of your Android apps tend to collect data to the device over time. Examples of such apps are Spotify, WhatsApp and various map apps (e.g., HERE WeGo, OsmAnd).
To clean up the data generated by an Android app try to do it first by using the application itself (e.g., delete the map of a country that you will not visit soon).
If this is not supported in the app or if you want to reset the app without uninstalling it, then visit Settings > Apps > [the-app-in-question].
Try "Clear cache" first.
Should this prove ineffective then consider using "Clear data".
Below are screen shots showing the process of clearing WhatsApp's data:


4. Resetting to factory settings
An extreme measure for freeing up space is by performing a device reset to factory settings
This will erase all data from your device, and restore your device to the state it was in before you started using it.
We naturally recommend taking a backup of your device contents before preforming this option, and we hope you only have to utilize device reset as a last resort.