This article will help you get the most out of the Email application. It instructs general use and provides some hints and tips.
CONTENTS
1 Adding email accounts to your device
Email account types
2 Reading email
2.1 Using Email's Cover
2.1.1 Email's Cover statuses
3 Composing email
3.1 Additional settings for outbound emails
1 Adding email accounts to your device
To begin reading email on your device you must first add your email accounts to the device.
You do this in Settings > Accounts. Tap "+ Add account" to see the list of accounts you can configure with your device.
Email account types
Sailfish supports IMAP, POP and Microsoft's Exchange email accounts.
IMAP and POP accounts are generally email accounts you can also access via your browser i.e. Webmail. Such email accounts are referred to as "General email" in Settings:
You can also add Microsoft Exchange and Google email accounts to your Sailfish device: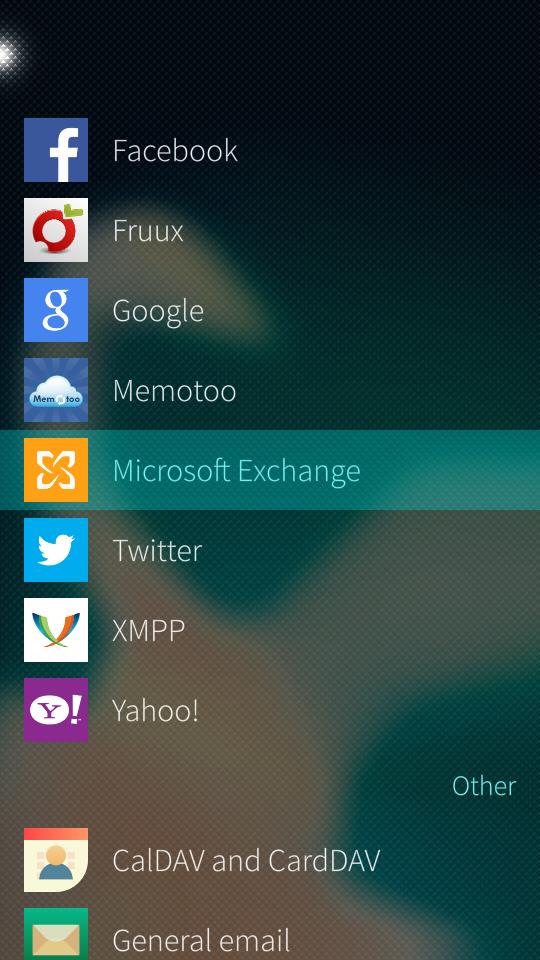 For help with installing Exchange accounts, please see here.
For help with installing General Email accounts, please see here.
For help with installing Google accounts, please see here.
2 Reading email
When you tap on the Email application icon, you will be taken to the unified Inbox view:
At the top of the screen you see all your email accounts active in your Sailfish device. The bottom half of the screen shows latest unread emails from all of your email accounts.
The pulley menu in this screen allows you to quickly create "New email", "Update all" your email accounts or begin to "Select emails":
Tap on an individual email account to move to this email account's inbox: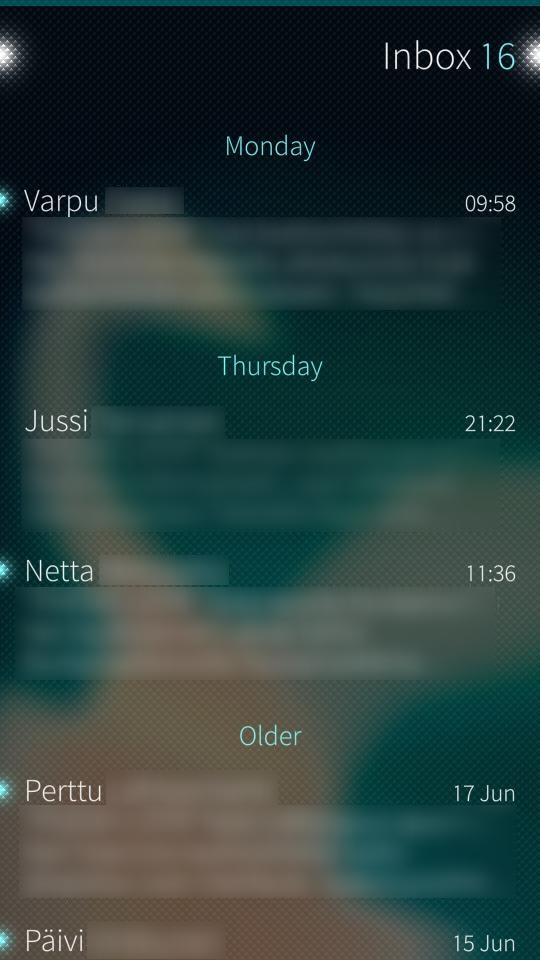 From the pulley menu you can (from top to bottom) change how email is sorted, select multiple emails, search, update the inbox and start creating a new email:
If you swipe to the left in the inbox, you will see the Folders view of your inbox: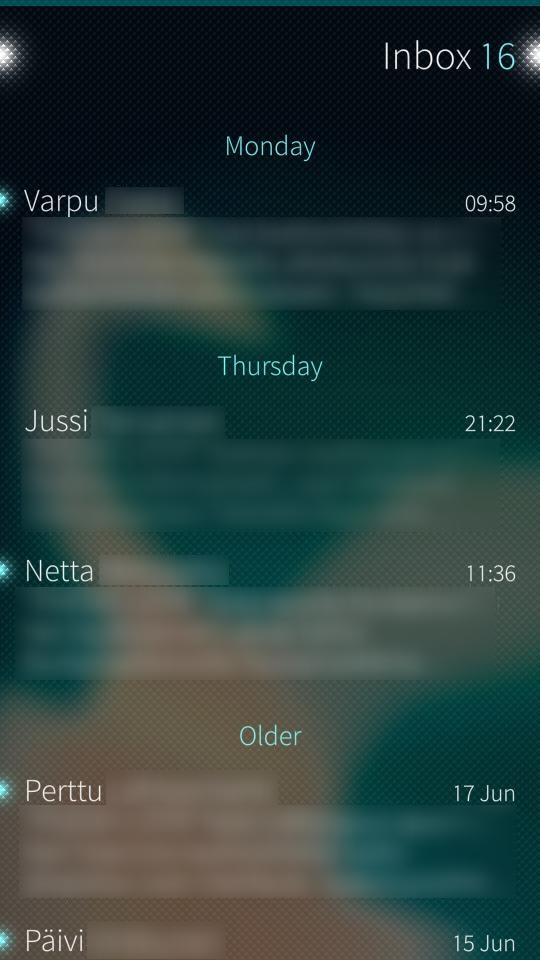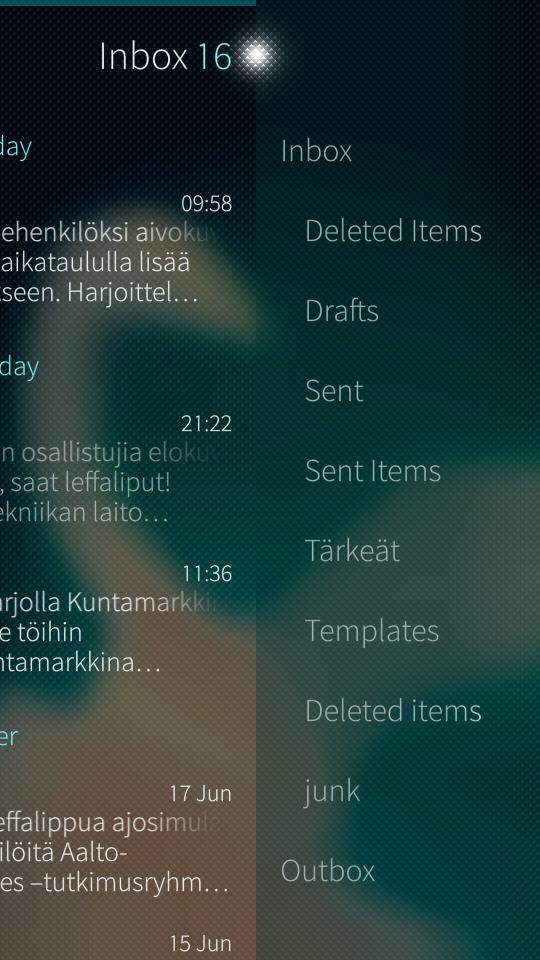 Tip: if you aren't sure if you've sent an email, check the Outbox folder for unsent mails. In some rare cases messages have to be cleared from Outbox before new ones can be sent.
If you are having troubles sending email, please see our troubleshooting articles for General Mail and Exchange.
2.1 Using Email's Cover

When you minimize applications you will see them as "cards" on your Home screen. They are called Covers. The Email application's Cover provides you a way to quickly refresh all your email accounts.
Below is a zoom-in of using Email's Cover to update all accounts:
Simply tap on the "update" icon to refresh all your accounts.
Tip: If you have a Google and/or Exchange accounts configured with your device, updating your email will also perform any syncs related to these accounts.
2.1.1 Email Cover statuses
Just now: a check for new emails just occurred.
Up-to-date: a check recently occurred, but there were no new emails.
Updates X ago: the last time new emails were sought after was X time ago.
Problem with sign-in: your email couldn't be updated because of issues in the sign-in credentials you have provided. Go to Settings > Accounts to fix this issue.
Unable to sync: performing the sync was not successful, please make sure you have Internet connection.
3 Composing email
To send an email you need to select "Create new email" from the pulley menu above: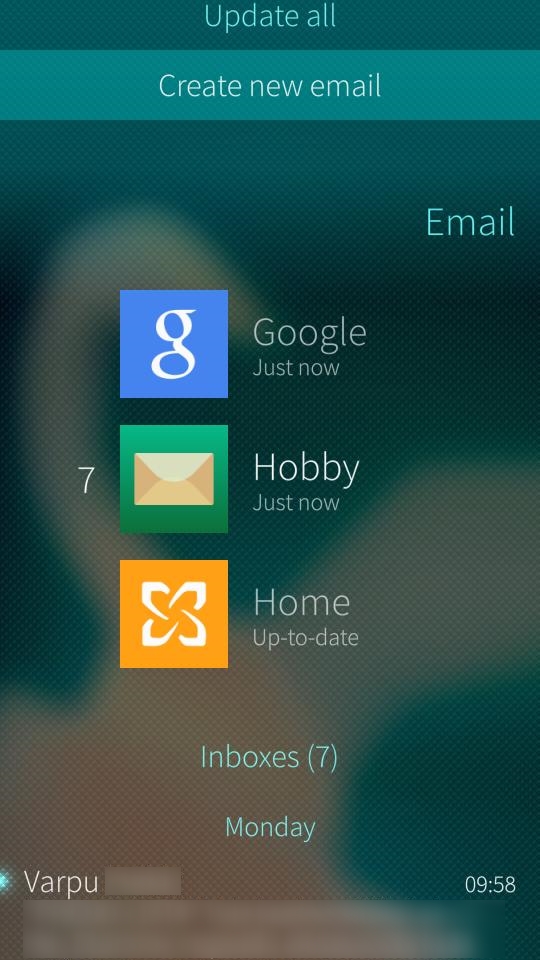 You need to be in either the unified Inbox (in screenshot above) or in the inbox of any of the email accounts configured with your Jolla to see this option in the pulley menu.
This will take you to the message composition screen:
You can type the recipients' addresses on the "To" line or fetch contacts from the People app by using the (+) icon.
If you want to add an attachment file, tap the 3 dots button near the right edge of the display. Then tap "Add attachment". Note that the size of the attachments should not exceed 5 to 10 Mbytes (depending on the limit set by your service provider). We recommend that you upload really big files to a cloud service first (e.g. Dropbox or the like) and that you send only the link pointing to that file in the cloud.
Once you've specified the recipient(s) & subject, you can "Send" the email by using the pulley menu.
3.1 Additional settings for outbound emails
Press the three dots to reveal additional settings for sending the email:
You can determine from which address the mail will be sent, and the importance level of your message.
Tip: To define the account from which all emails are sent from by default, go to:
Settings > Apps > Email and tap on "Default account for sending"
4 Related articles
Setting up a General Email account (IMAP/POP) on Sailfish
Setting up an Exchange account on Sailfish
Setting up a Google Account on Sailfish