Adding your Google account to your Jolla will allow you to:
Transfer contacts from GMail to your People app
Send and receive emails from your GMail account
Sync calendars from Google Calendar
Send GTalk instant messages via the Messages application
Step-by-step: Setting up your Google account
Below are detailed step-by-step instructions for configuring your Google account with Jolla.
1. Open "Settings":

2. Then choose "Accounts":
3. Next you will see all the already installed accounts in your device. Pull down to view to select "Add new account":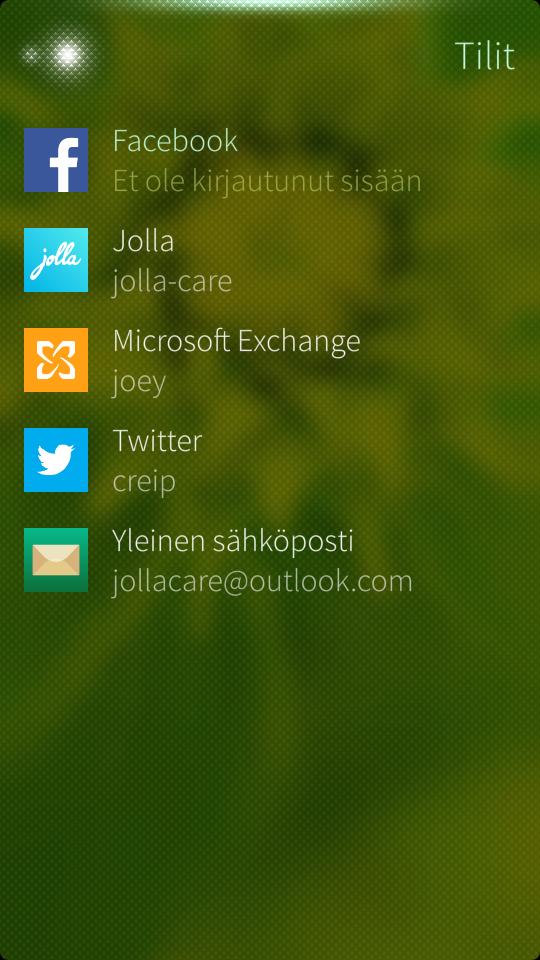 The pulley menu is revealed as you slide your finder down on the screen.
4. Now select "Google" from the list:
5. Accept Google's Terms and Conditions

6. Enter your Google-account credentials into the fields:

Then, press "Sign-in".
7. Accept the permiossions in the following screen:
8. Review the content to be downloaded from your Google account and press "Save" in the following view:
The account is now installed!
Setting up only email synchronization from your Google account
If you only want to sync emails from your Google account, you need to add your account to your Jolla as a "General email" account:
1. Open Settings > Accounts
2. Select "Add new account" from the pulley menu above
3. Type in your email address and password, and press "Accept". The settings will be retrieved automatically.
If you need to set the GMail account settings by hand, please see here.