Currently Android Instant Messaging (IM) applications such as WhatsApp can create notification banners and entries in the Events view, but incoming messages don't make a sound. In addition to this, the activation procedure might be a bit cumbersome.
Please note that your software must be in the very latest version in order for all features described in this article to work. Read about updating your software here.
CONTENTS
1 Downloading the necessary apps
2 Activating WhatsApp service on your device
3 Assigning a notification tone to WhatsApp
4 Making sure WhatsApp gives notifications even when not open
1 Downloading the necessary apps
1.) Open Aptoide appstore on your Jolla.
You can download Aptoide Appstore from the Jolla Store if you don't already have it.
2.) Download and install "WhatsApp" from the front page of Aptoide, or use the Search function to locate it.
3.) Then, download and install an Android browser. Below we're going to be choosing "Firefox".
4.) Then, search for "Zedge". Download and install it, too.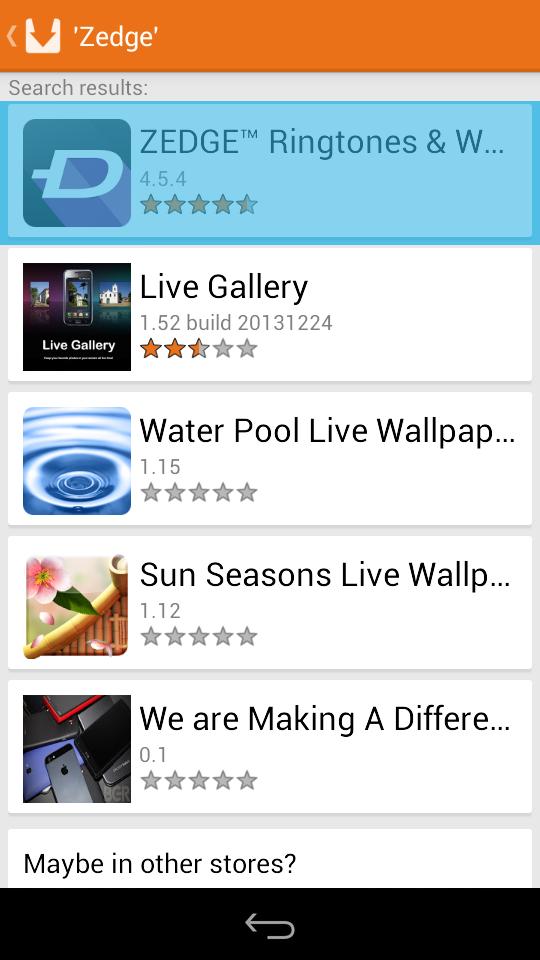 Note: if Zedge is unavailable in your region, you can download another similar ringtones application to download sounds. Some applications such as CloudMagic also bring with them notification tones you can use.
After downloading and installing the applications, you have all the applications required to activate and start using WhatsApp.
2 Activating WhatsApp service on your device
Next we will activate WhatsApp on your Jolla device. WhatsApp uses an automated text message system for verification. We will have to help it a little by hand though, as Jolla's Android Support (TM) can't read the necessary info from the verification message sent by WhatsApp (yet).
1.) Please ensure that your device has a connection to the cellular network, and that Mobile Data is enabled & functioning.
2.) Open WhatsApp. Agree to the Terms and Conditions and fill in your region and phone number, and press OK:

3.) Next you will be sent an SMS, while seeing this view:

Note: if you can't receive a message from WhatsApp, please wait 5 minutes for a call from WhatsApp.


4.) Send WhatsApp to the background by swiping from outside the screen, and open Messages.
5.) In the message sent by WhatsApp you will see a link. Touch the link. This will cause the Sailfish browser to open, which can't handle the request unfortunately. Copy the link to the clipboard from the "Tabs" view in the Browser:

6.) Paste the link into Firefox (or another Android browser):


7.) As you press "Enter" to navigate to this URL, WhatsApp will soon jump up, prompting you to complete the activation by giving your name.
That's it, you're online in WhatsApp!
3 Assigning a notification tone to WhatsApp
Next we will want to download some notification tones that WhatsApp can use for notifying you of new messages.
1.) Open "Zedge" which you downloaded before, and search for a nice notification tone. Below we've found the fan-uploaded Jolla tones:

2.) "Download" and then "Set" the tone as your default Notification tone: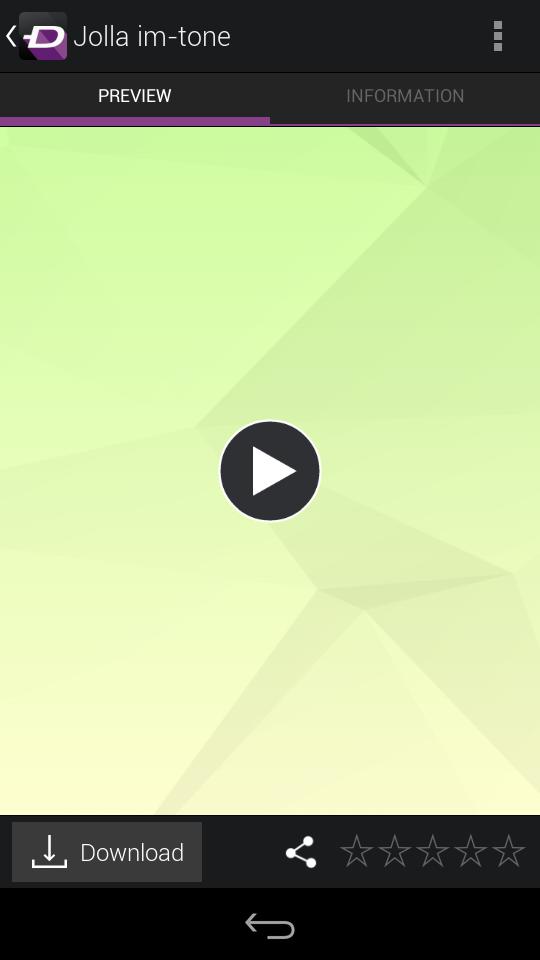 This tone is now set as the default tone for any Android applications that utilize notifications.
To assign a WhatsApp call ringtone, please download a tone from the "Ringtones" category in Zedge.
3.) Now, open WhatsApp and go to it's Settings > Notifications:
4.) Then, go to modify the "Notification tone", and select "Media storage" in the next view. All tones downloaded with Zedge appear in "Media storage", but you can also use Zedge for this function.
5.) Select the tone you want from the list, and press "OK".
6.) All done! Ask a friend to send you a message to try it out.
4 Making sure WhatsApp gives notifications even when not open
By default notifications will not come through unless you have WhatsApp minimized to the Home screen.
Should you wish to be alerted of WhatsApp messages whenever they might arrive, regardless if the application is open, please do the following:
1.) Go to Settings > Apps
2.) Find WhatsApp from the list of applications: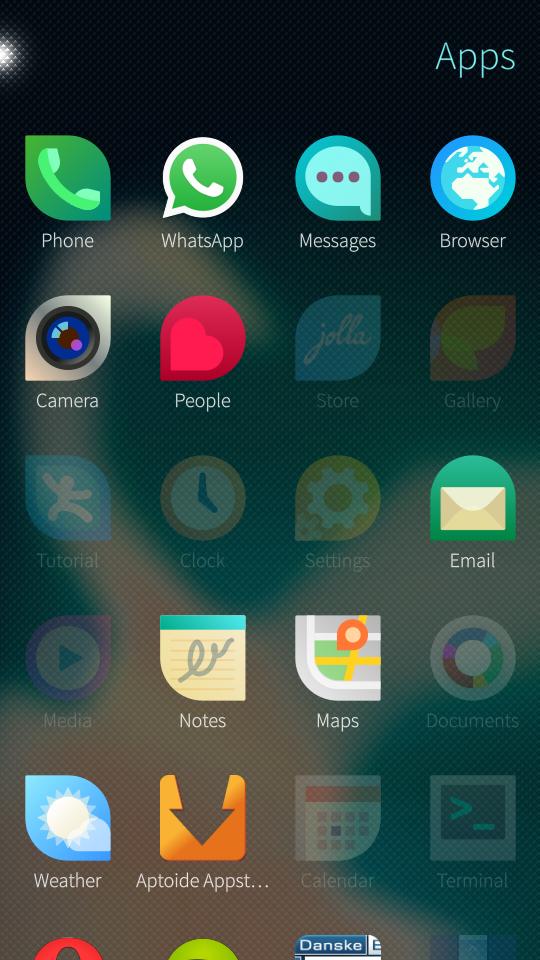 3.) Then, enable that this application's background processes are allowed to start as soon as the device has started up: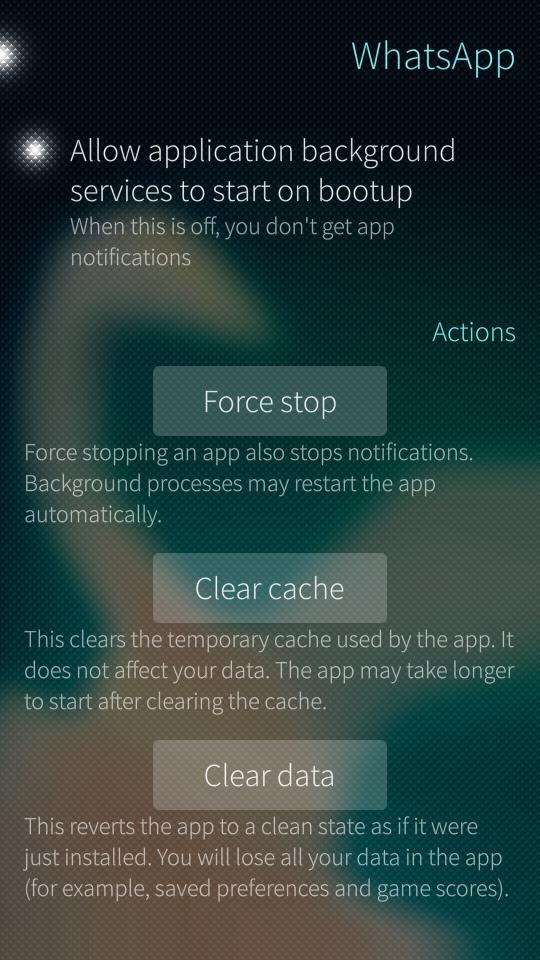 The switch in this view will make WhatsApp's background processes run all the time on your device, regardless if WhatsApp is open. Although this means that you will be receiving messages whenever they arrive, they will have an impact on your battery life.
You may need to restart WhatsApp for this change to be applied.
Please also note the other controls for the application in this view.
5 Troubleshooting
Q: I can't get notifications from WhatsApp even after following instructions in chapter 4!

A: Please check if there is a newer version available in e.g. Aptoide appstore of WhatsApp. You may also need to simply re-install WhatsApp in order for notifications to work.
Q: I can't get all my contacts to show in WhatsApp. Some might show, but some just show the phone number!
A: First please make sure that you have given Android applications permission to access your contacts in Settings > System > Android (TM) Support: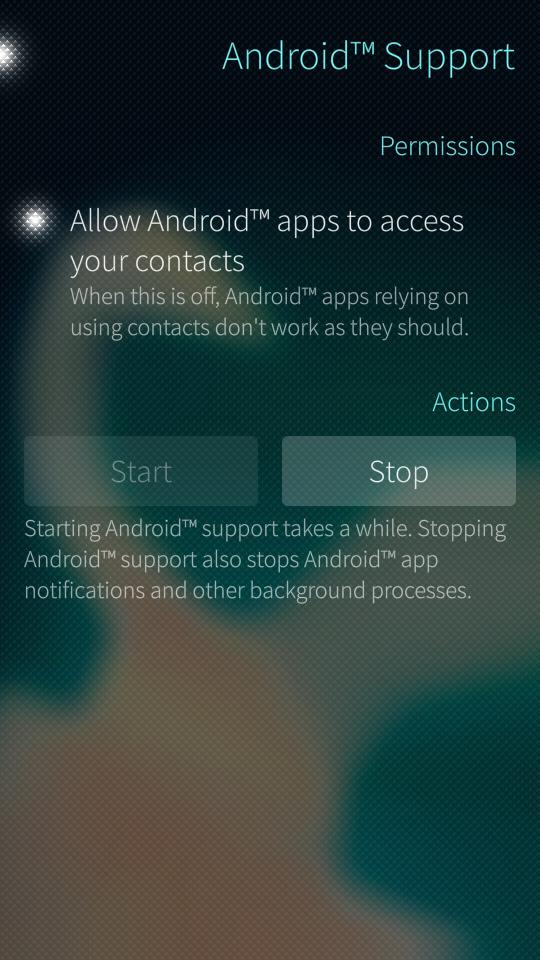 If activating this setting does not solve the issue, please read on.
Below is a list of everything you can try to jostle up WhatsApp to find all your contacts. You don't have to try all of them, but we recommend you start from the first suggestion that is least intrusive and easy, and continue down the list only if the issue isn't solved for you.
Go to WhatsApp "Settings" > "Contacts". Activate "Show all contacts" option.
Go to the "Contacts" tab in WhatsApp, press the three dots and select "Refresh"
Select "New Chat". Select the three dots (top-right) and select "Refresh". This is great for updating your WhatsApp contacts with changes made to e.g. their phonenumbers in the People app.
Restard Android (TM) Support with the help of Sailfish Utilities or the Android (TM) Support page in Settings (see screenshots above).
Restart WhatsApp
Restart your device.
Try the troubleshooting steps provided by WhatsApp in the WhatsApp application. You can find them by:
1.) Press the New Chat button:

2.) In the next view, press the three dots top-right and select Help:

3.) Please try out the steps suggested in the next view.
If your problems continue even after these steps, we can only suggest you check in the People app that contact information for these certain contacts are in order (e.g. no multiple numbers, incorrect numbers).
Q: I never receive an SMS code from WhatsApp!
A: Please wait for the timer (5 minutes) to run down, after which an automated service from WhatsApp will call you with a code.
Q: WhatsApp seems to be stuck in the "Initializing" or "Connecting" phase during activating the service!

A: Please give this phase time. The cause of this issue is unknown, but you can try some of the tricks available online. Restarting your device might help as well.
Q: I can't assign a ringtone to incoming WhatsApp calls!
A: Please note, that you will have to download a tone from Zedge's "Ringtones" category. These files will be identified by WhatsApp as ringtones that can be used for WhatsApp calls.