Aptoide Store (*) is an Android application store that is, in fact, a collection of several application stores. While it allows greater availability of Android applications, it also makes the functionality of Aptoide Store a bit different from most other Android app stores. In this article, you will learn how to make the most out of the Aptoide Store.
Aptoide Store can be installed from Jolla Store (category Marketplaces). After installing this app, it appears simply as "Store" at the Sailfish apps grid.
(*) We call it "Aptoide Store" in our help articles to make a clear distinction to Jolla Store.
CONTENTS
2 Downloading applications from Aptoide Store
2.1 Using search
2.2 Installing applications
2.2.1 Installing a specific version of an application
2.3 Uninstalling applications
2.4 Updating applications
3 Stores within Aptoide Store (Tablet only)
3.1 Subscribing to stores
1 Getting started
To run Android applications on your Jolla device, you need to download Android™ Support from the Jolla Store. Please note that in case of Sailfish X you will need a valid licence for being able to download and install Android™ App Support.
You have probably installed it when you first started up your device, but in case you haven't, please see below:
Tap on the Jolla Store icon in the app grid.
Tap "Recommended by Jolla" at the top of the page or scroll down and go to folder "Jolla". You will then see the item "Android App Support". Tap it and pull down the command "Install".
NOTE: Android App Support is not an actual app, so it will

not

appear in the app grid.
Once Android™ App Support is installed, install Aptoide Store from Marketplaces folder and install it. NOTE: it appears by the name Store.


You can now find Aptoide Store at the end of your installed applications in the App Grid. Note that both Jolla Store and Aptoide Store have the name "Store" in the App Grid, however, the icons are different. The icon of Aptoide Store is green with a white Android creature on it.
If you want to consider other app stores, please read this help article.
2 Downloading applications from Aptoide Store
Launching the Aptoide Store application will take you to Aptoide's front page. Here you will find the most popular applications, as well as new interesting applications added to Aptoide.
Below is the screenshot showing the front page view on a Jolla phone:
Swiping left will reveal all the tabs in Aptoide Store: "Home", "Top", "Categories", "Updates", and "Download manager".

2.1 Using search
Search for your favourite app by tapping on the magnifying glass icon in the top-right corner of any view within Aptoide Store: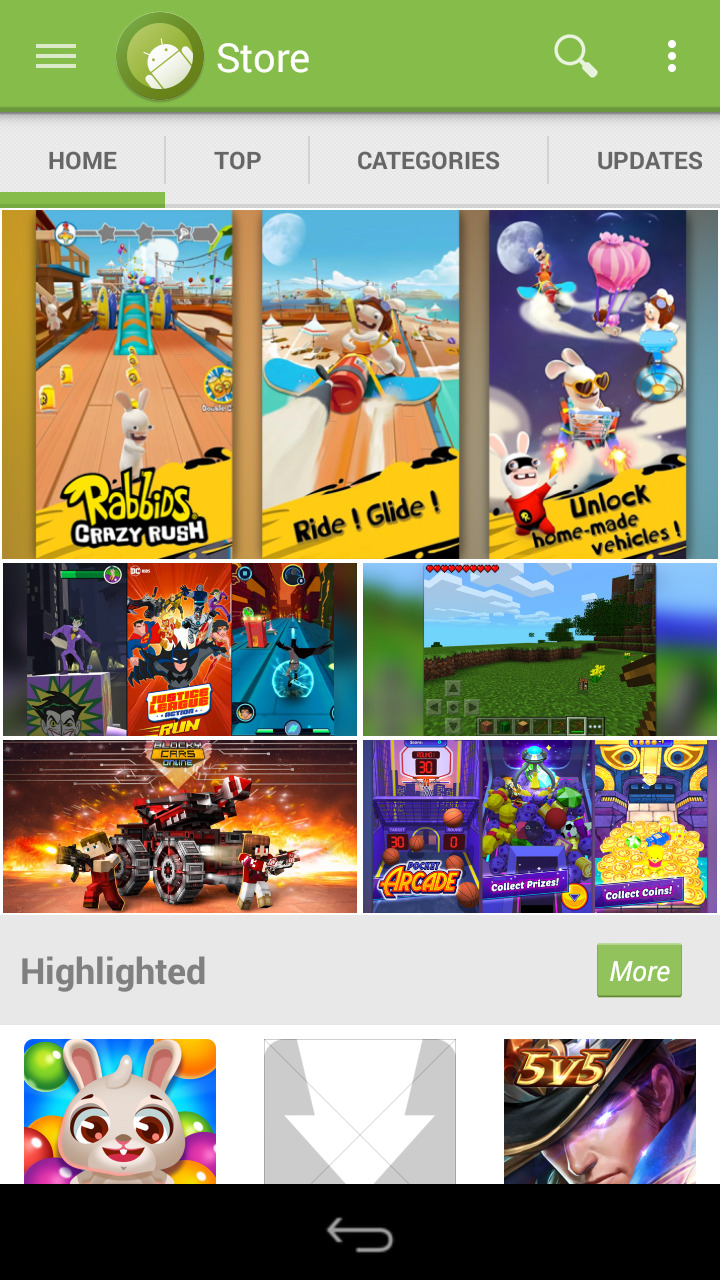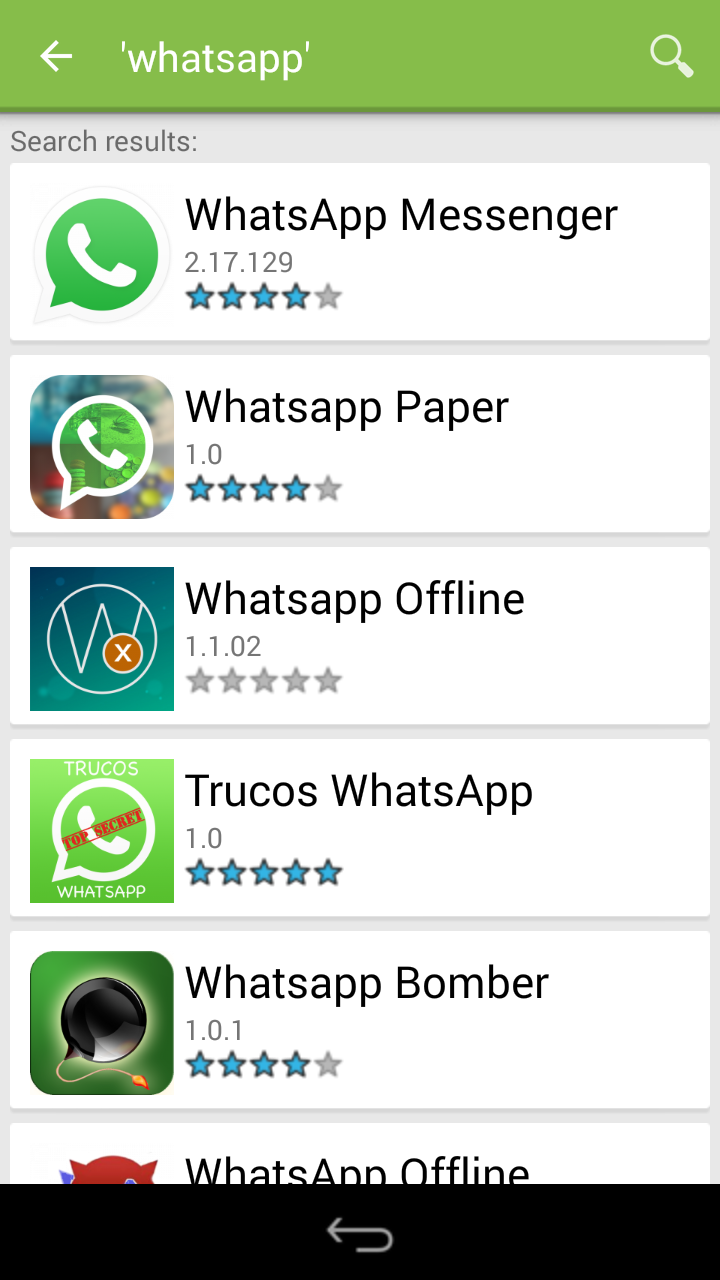 Can't find the apps you are looking for?
Aptoide also offers a method of extending your search beyond the Stores added to your Aptoide Store client. Read more about the "Search Other Stores" feature in this support article.
2.2.1 Installing a specific version of an application
You can also download different versions of applications from Aptoide Store. Should you choose to download an older version of the application currently on your device, Aptoide will first uninstall the application in question, and then download the requested version on to your device. No application data is lost in this process.
Below is a step-by-step instruction on downgrading an example application. The steps are carried out on a Jolla C device:
1) Browse to the page of the application in question:
2) Tap on the "Related" tab, and see the versions listed under the "Multiversion" heading:
3) Select the version you are interested in (for more options you can press the +More button). This will take you to the download page of said application version. Then confirm by pressing "Downgrade":
2.2 Installing applications
Tapping on a search result will produce the application page of the selected application.
Before tapping 'Install' check that the publisher is correct. Otherwise, you might get an application which is not authentic. In the worst case, it can be some kind of exploitation attempt.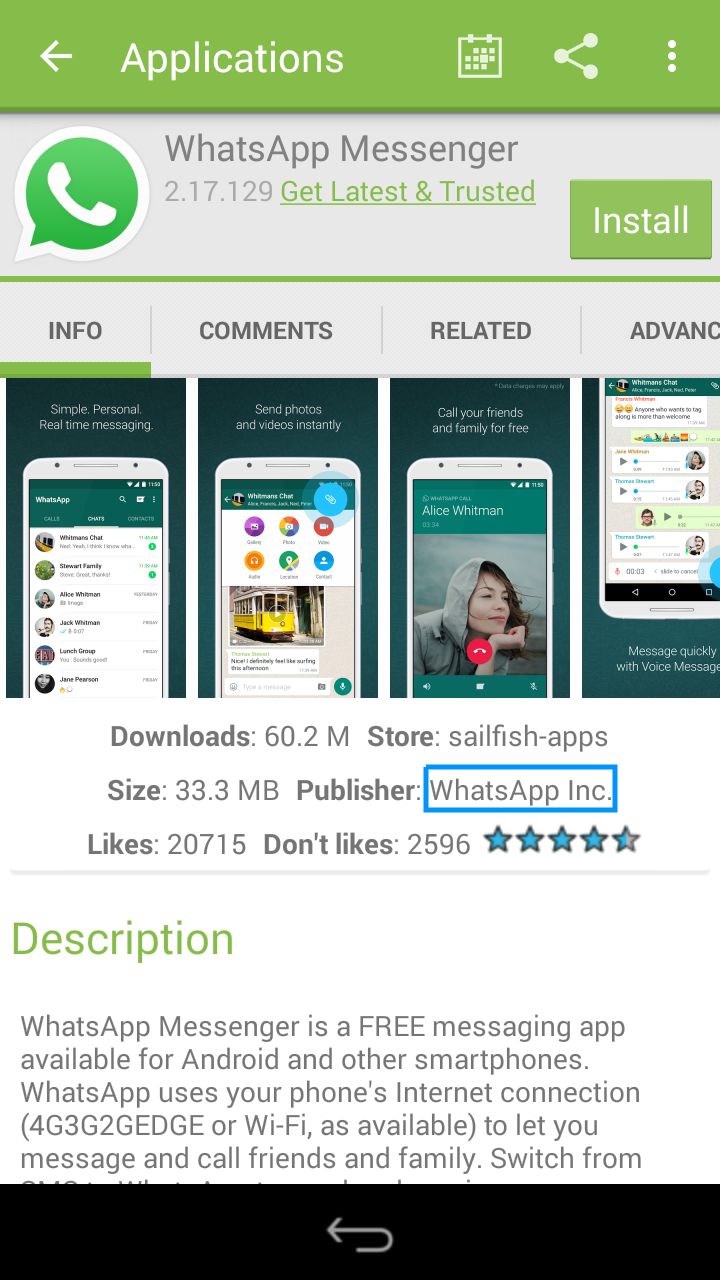 2.3 Uninstalling applications
You can also uninstall applications by using Aptoide Store. It is always possible to uninstall applications via the Application grid, but uninstalling this way ensures that Aptoide is able to keep up to date with which applications you have installed.

You can uninstall an application by going to the "Updates" page, which shows all Android applications installed on your device:
Tap on any application to go to its page. Then, tap on the three dots located on the upper right corner of the application page, where you can select the "Uninstall" option from the menu. Select OK from the pop-up query to confirm:
2.4 Updating applications
Aptoide Store notifies you when there are updates available to your applications. To download the updates, go to the "Updates" tab from the main page, and tap "Update all":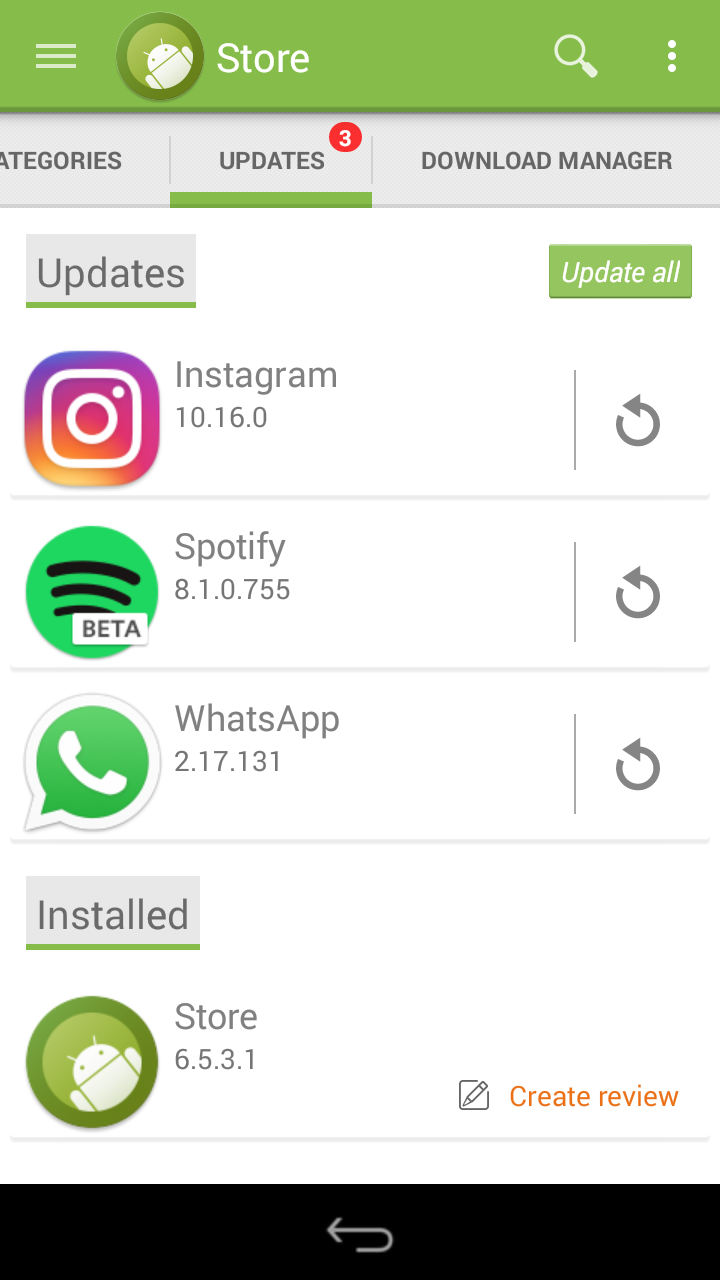 If you swipe down in this page, Aptoide Store will refresh the availability of updates.
To see the progress of your application updates, go to the tab "Download manager":
3 Stores within Aptoide Store (Jolla Tablet only)

As mentioned before, Aptoide Store is, in fact, a collection of several application stores. Anyone is free to start their own application store and publish them on Aptoide Store. You can then "subscribe" to these stores to broaden your search results. Please note that this feature is available only in the tablet version of Aptoide Store.
To see which stores you are subscribed to, return to the main view of Aptoide Store and go to the "Stores" tab:
3.1 Subscribing to stores
By default, you should be subscribed to the "Jolla Tablet Store" app store. For most users, being subscribed to this application store is enough. However, should you ever want to add another store to Aptoide Store, please follow the instructions below:
1. In the "Stores" tab, tap on the "+ Subscribe Store" button.
2. You will see the pop-up box requesting the name of the store:
3. Type in the store name you want to add or to browse popular stores tap on "See Top Stores". This will open up a browser to show the results: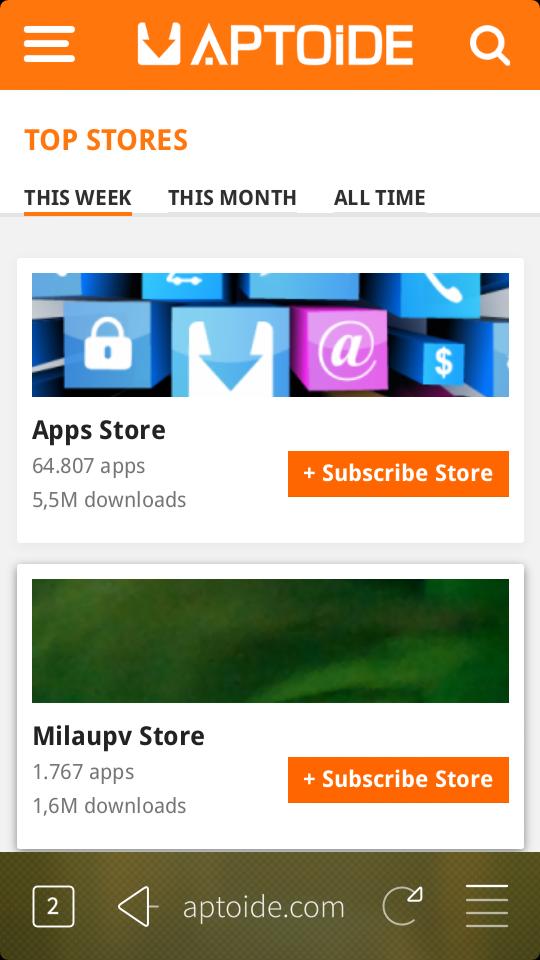 4. After finding a store you wish to add, return to Aptoide Store to enter the name of the store.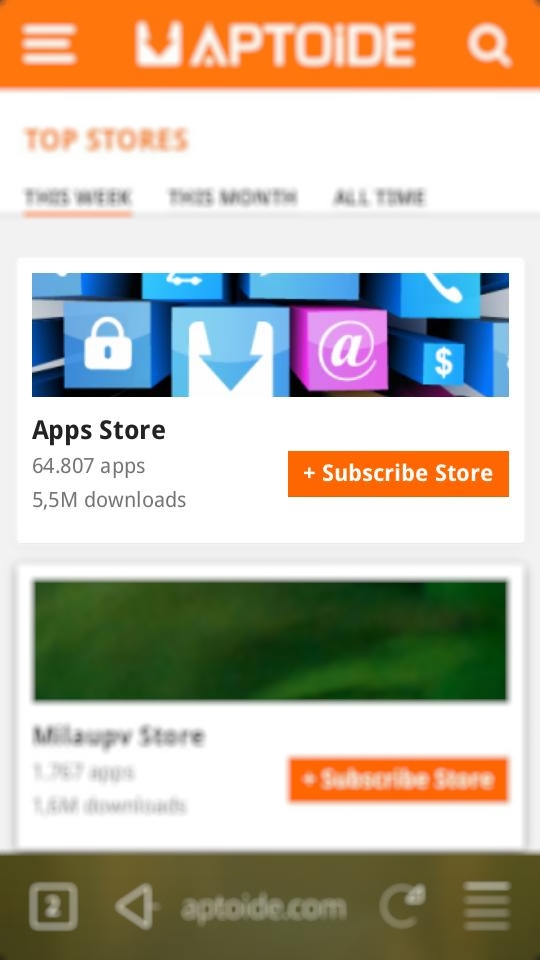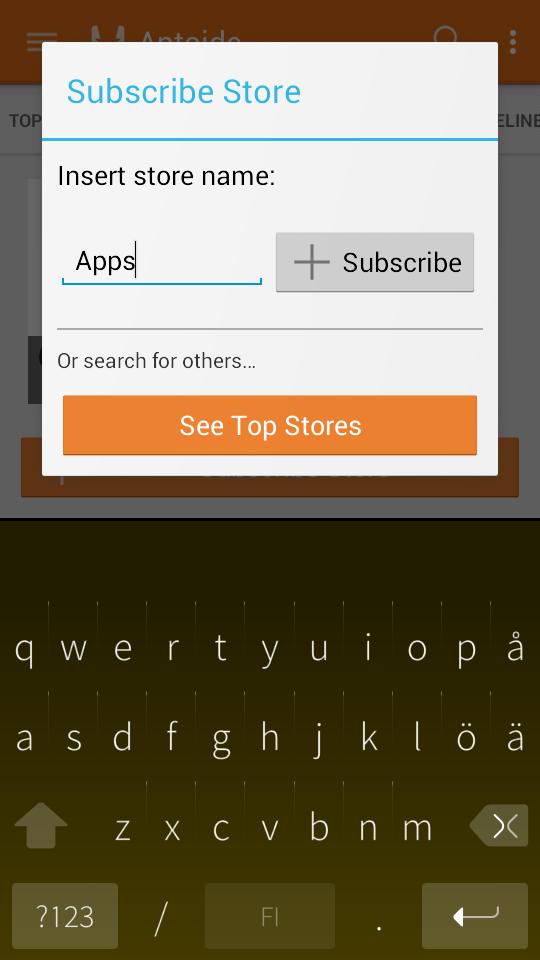 Once you have subscribed to a store in Aptoide Store, you will receive notifications for any updates to applications present in these stores.