Multimedia Messaging (MMS) is supported in Jolla phone from SailfishOS 1.0.5.16 onwards.
Sending MMS
Sending MMS in SailfishOS is currently supported in the following two cases:
Sharing a picture in Gallery as an MMS message.
- open a picture
- tap on it to make the sharing menu appear
- select MMS
- select the recipient and send the message
Sharing a contact card in People application
- open contact card
- take command 'Share' in pull down menu
- select MMS
- select the recipient and send the message.
Sending MMS messages directly from the Messages app is not currently supported. However, the MMS messages sent from Gallery appear in the conversations of Messages app as if they had been sent from there.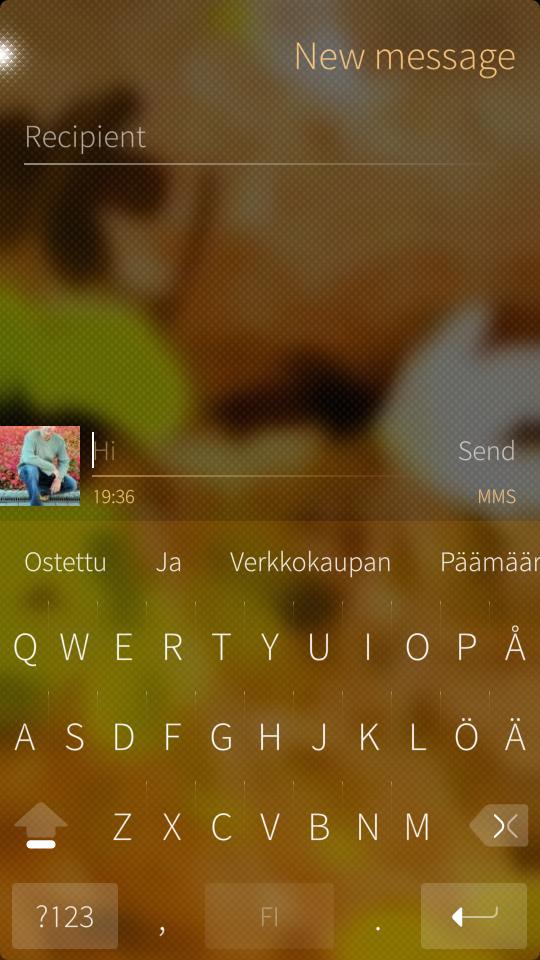 Receiving MMS
Received MMS messages appear in the Messages application in the same way as SMS messages. It is possible to view an attached picture or contact card by tapping it. Furthermore it is possible to save the attachments to Gallery or People app (respectively).
In SailfishOS it is currently not possible to reply to an MMS with an MMS but only with an SMS.
MMS settings
Network settings
MMS settings are normally obtained automatically from an internal database of Jolla on a successful registration of the phone to the network. This requires that the SIM card is in the phone and the PIN code was entered correctly.
MMS network settings can be edited in menu page Settings > System > Mobile network > MMS access point. You can get the correct settings by visiting the website of your cellular operator.
It may also possible to request the operator to send the settings to your phone over the air (OTA provisioning).
See an

example

of network settings in the picture below. The top most of them, Connection name, is free text whereas the rest of them must be exactly as the operator instructs.
Application settings
Menu page Settings > Apps > Messages has some settings for the use of MMS messages from SailfishOS version Vaarainjärvi (1.1.1.x) onwards:
Maximum MMS message size [Small, Medium, Large, Extra large]
We recommend Medium (300 kilobytes) as operators and capabilities of phones may set limits to the size: big attachments cannot be delivered.
Request reports [No, Delivered, Read, Both]
Select a suitable value if you want to get notified on delivery or on reading of the message you sent.
Download MMS automatically
Turn on if you want to receive MMS messages with their attachments automatically to the Messages app of your Jolla. Your operator may charge you on the use of mobile data because of this. Alternatively keep this setting off and fetch the MMS messages from the message server only when a free WLAN network is available. You will receive a notification to the Messages app when a message is waiting to be downloaded. In the picture below the lower message should be downloaded from the server whereas the upper one has been received automatically.
NOTE: Due to a defect in SailfishOS version 1.1.1.27 the status of this setting may be shown incorrectly (it is not ON although it appears to be). To fix the issue, turn the setting OFF and then back ON.
In case of trouble
Should you have trouble with MMS please see this for more help.