CONTENTS
2. UPDATING THE OPERATING SYSTEM
2.2. Preparations for the update
2.3. Downloading the update from Jolla Store to your device
3. IF YOU DO NOT FIND NOTIFICATIONS ABOUT UPDATES
4. UPDATING FROM EARLY SAILFISH OS VERSIONS
1. Prerequisites

These instructions are especially important for the users of Jolla Phone (aka Jolla 1).

We highly advise freeing up memory space by moving unnecessary/big files away from device prior to taking an update. Please see here.
We also advise reading chapter 5 of this help article and acting like instructed.
Check that you have a working Internet connection. Use Sailfish browser to check this. Note that the size of the update may be up to hundreds of megabytes. Prefer WLAN to download it (switch off mobile data). If you use mobile data, make sure that this will not incur cost to you. Switch off WLAN if you use mobile data.
Check that the date and time of your device are correct.
Check that you have a working Jolla account in your Sailfish device. Launch the Store application and try to install any application from the Store. Should there be any trouble please read this article.
Make sure you have that you have enough free storage space (disk space) in the device: the user data "Used" shown on menu page Settings > Storage (this concerns Jolla 1 device) should not preferably exceed 10 GB. If it does then delete some video clips or pictures from Device Memory - see

this article

.
Restart the device before starting the OS download.This ensures the maximum amount of free working memory (RAM) for the demanding process.
We recommend keeping the device connected to a charger throughout the whole update process.
If you have installed applications from OpenRepos service, then see chapter OpenRepos in the end of this article. If you have never heard the name then ignore this step.
2. Updating the operating system

2.1. Finding an update
Notifications on available system updates appear in the Events View which you can make visible by swiping sideways from beyond the left edge of the device (on old OS versions swipe upwards from the bottom of the display). Touch such a notification in the Events view. Jolla Store application will launch automatically. Follow the on-screen instructions.
Alternative: Visit menu "Settings > Sailfish OS updates" and pull down to seek for an update (if you have an old OS version currently, then use menu "Settings > System > About product")
2.2. Preparations for the update
A good amount of free memory and a non-fragmented file system are required for a successful OS update. From OS version 1.1.6 onwards the device will run some optimization before it can start the actual update process. Note that the optimization itself requires some working space - if there is none then it will fail. In recent Sailfish OS versions the text "Preparing for the update" will appear instead of the picture below.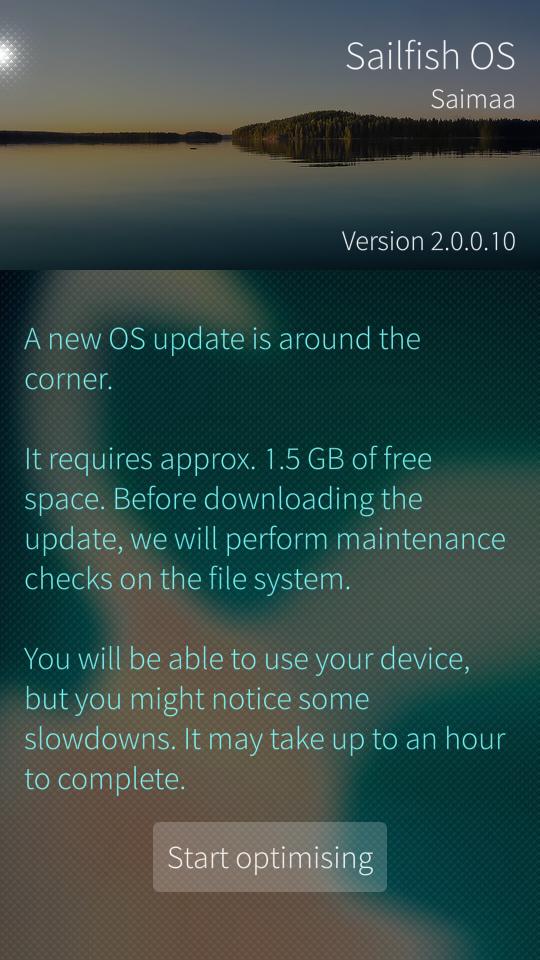 2.3. Downloading the update from Jolla Store to your device

Select "Download" in the pull down menu.
Wait until the download gets completed - the scenery at the top of the display will turn lighter starting from the left, indicating download progress. There will be further instructions on the screen for the install phase.
Should the download get interrupted due to a connection problem you can start over. Sailfish OS knows how to continue from the point it had stopped at (the progress indicator always starts from the left, though).
The pictures below show how the download goes:

 
2.4. Installing the update
Never try to interrupt the install as this would very likely break your device. Do not turn it off (unless several hours have passed without getting the job completed)

Make sure your device is connected to a charger. Your device must not turn off during this phase.
Start the process by selecting "Install" in the pull down menu.
The Sailfish logo will appear on black background during the installation. There is a progress indicator line below it. Installing the update will not delete contacts or other user data in the device.

  


Wait patiently until the update is installed -

DO NOT TURN OFF

the device (in fact, the Power key is disabled at this point). The red

LED

will be lit in the end. Let the device restart itself - you will eventually see your familiar Lock Screen. At this point the install is over and the device is ready for use.
It takes usually about 10-20 minutes to install an update.
3. If you do not find notifications about updates

1. Visit menu "Settings > Sailfish OS update"
2. Select "Check for update" in the pull down menu
After some moments (given the Internet connection is ok) there should be a notification about a Sailfish OS  update appearing at the top of the screen.
Return to <>Preparations for the update (above).


4. Updating from early Sailfish OS versions

There are several Stop Releases in the Sailfish OS update path. They are mandatory intermediate steps in the update path through which the update process must traverse if the original OS version of the device is from the past. The Stop Releases (so far) are:
1.0.2.5
1.1.2.16
1.1.7.28
1.1.9.30
2.0.0.10
2.2.0.29  (this is the latest stop release as of June 2018)
Hence if you start from release 1.0.0.5, your device will have to download and install all of the stop releases before it can get the latest OS version. If you start from 1.1.6, then there are three stop releases to install.
Sailfish OS should automatically suggest the next stop release for you in Settings > Info > About product (or Settings > About product).  Follow the steps below.

1. Seek for updates in menu "Settings > System > About product" (or "Settings > Sailfish OS update") as explained above. The first applicable stop release will be offered. Note here that it is recommended to use WLAN connection for the download and turn mobile data off. Check that your Jolla account really works by first installing an application from the Store, and if it succeeded, then download the OS update. If the download of OS update gets stalled and/or you see the notification "Problem with Store" then check your Internet connection again. Retry the download. Should the update keep failing then it is best to reset the device to factory settings first and then try again. Read these instructions for factory reset, please.
2a. As soon as the first stop release is installed to the device, seek for the next one. Carry on in the same way. Once the last stop release has been installed, the latest Sailfish OS version will be downloaded. Download and install it.
2b. If the device keeps failing to indicate the availability of Sailfish OS updates, it may be possible to get them with the following commands (this requires the Developer Mode, SSH password and Terminal app - see "Settings > System > Developer mode" or "Settings > Developer mode"). Should you need help with the commands below , read this help article or contact Jolla Customer Support.
devel-su              ## See [1] below 
ssu release 1.1.9.30  ## See [2] below
version --dup

[1] Use your SSH password here (from Settings > Developer tools)
[2] The next stop release (or the latest OS release in the final step)

(*) NB: Like at step #2a above, while using the graphical UI to update, also on the command line you MUST traverse through the stop releases, and only after the last one of them you can "version dup" to the latest OS version. Otherwise there is a great risk of breaking your device.
Q: What is my next stop release?
A: Check the current OS version of your device in Settings > System > About product (or Settings > About product). Then look at the list of stop releases above. If the current version is let's say 1.1.6, then the next stop release would be 1.1.7.28.
3. After running these commands please restart your device by using the power key, and check in Settings > About product  (or  Settings > System > About product) that your device has updated. You can disable Developer Mode now if you wish.
5. Open Repos
If you have not heard about OpenRepos or Warehouse, you can ignore this chapter.
OpenRepos is an application store that contains lots of nice and useful apps for Sailfish OS and other operating systems. This store is independent of Jolla. Many developers publish their work in OpenRepos for feedback before trying to get them accepted to Jolla Store (so-called harbour apps).
This chapter is here as a disclaimer. It has turned out that not all (a minority) of the Sailfish apps in OpenRepos are fully compatible with Sailfish OS. We have been reported a number of issues which may make Sailfish OS updates fail, partly or completely. Therefore, please follow the advice below prior to trying to download and install s Sailfish OS update.
If you use Phonehook or Callrecorder from OpenRepos, uninstall it before upgrading
If you use oFono from OpenRepos, revert to the official oFono before upgrading
If you use Patchmanager, revert all applied patches before upgrading.
If your Sailfish device has now a SailfishOS version which is one of 0.99.5.11, 1.0.0.5, 1.0.1.10, 1.0.2.5 or 1.0.3.8 and it has the WareHouse app installed (i.e you are using OpenRepos), disable all openrepo repositories before attempting to upgrade your device. This may be necessary even with the recent OS versions. Else, you risk breaking the device. Read important-steps-to-do-before-updating and how-to-disable-openrepos-repositories posts for more information. Should you need help from Jolla Customer Support, please do it here.