There is a video clip (a bit outdated, mostly ok - based on an earlier OS version) in the end of this article covering phase 1-3.
Installation
Launch Jolla Store application.

Sign in to your Jolla account if requested.

Scroll down to the bottom of the page. Tap on "Jolla" (category).

Tap on "Microsoft Exchange".

Pull down "Install".
Creating account
Please note that every time you have tapped "Accept" in the next steps, your device will contact the remote server over the Internet. This requires some time (from few seconds to few minutes). You can see related text messages on the screen, and a spinner. Let the spinner spin without interrupting the process, or else the account setup might fail.
Step 1
Make sure you have a working internet connection from your Sailfish device.

Go to "Settings" and choose "Accounts"

Tap "+ Add account"

Tap "Microsoft Exchange"

Enter the following information

email address

username (usually your email address goes here, too)

password (use the 'abc' button to check that there are no typing errors)

server domain (leave empty for @outlook.com or if your server does not have any domain)


Example


https://etherpad.jollamobile.com/p/sailfish-os-release-status
Tap on '"Accept" near the top right corner to make your device download the required settings automatically in case your service provider supports autodiscover. You can then skip to Step 2.

If you know already that your service provider does not support autodiscover, then tap "More" (see the pictures above) and carry on to Step 2.

If you tried the automatic lookup but it failed failed, then fill in the missing items (or incorrect items shown in red font) in Step 2.
Step 2
Enter the required information
Server domain name (leave it empty if your server does not have one)

Server address

private customers: outlook.office365.com or m.hotmail.com or eas.outlook.com or something else
business customers: contact your IT support


Server port number (most servers use port 443)
Enable secure connection chosen (so that the 'LED' is lit in front of that line)

We recommend leaving option "Accept untrusted certificates" OFF, unless you know precisely what this is about and what consequences it may have.

Tap on "Accept" in top right corner to save the settings and have them checked by the server.




Step 3
Your Jolla is now showing the service options (see the pictures below) – select the options you prefer:

Which services you want it to synchronise (email, contacts, calendar)

Automatic or manual synchronization, sync interval, busy times

Peak hours and days

Past periods from which you want to get emails and calendar events

Place of conflict resolution ("server" usually).
Service provisioning: switch ON
If your account creation fails and/or your IT support instructs you to do so, you can turn provisioning off and try to create the account again. Some servers will accept devices that are not provisionable. Note that SailfishOS does not yet support all provisioning policies (e.g. remote swipe) [1]. Consult your IT support for more information about your server settings.

Scroll to page top.

Tap on "Accept". Menu page Settings > Accounts will appear.

Let the device do the final things (keep an eye on the Exchange item at

Settings > Accounts

) - it may be best not to use the device at this point. This phase typically takes from a couple of minutes to 30 minutes, depending on the Exchange server your account is registered to.


Synchronisation
Exchange starts automatically syncing your data now. After a couple of minutes you have your emails, calendar appointments and contacts in your device, depending on the choices you made.
It is also possible have the data synchronised by using the pull down option "Sync".
NOTE: There is no dedicated application for MS Exchange in Sailfish OS. It is just another account in Settings > Accounts. MS Exchange also appears among the email accounts in Mail application. Mail application can be installed from Jolla Store - it is in category "Jolla". Likewise, your calendar items appear in Calendar app and your contacts in People app.

Pull down menu
The pull down (pulley) menu has the following options (below, left):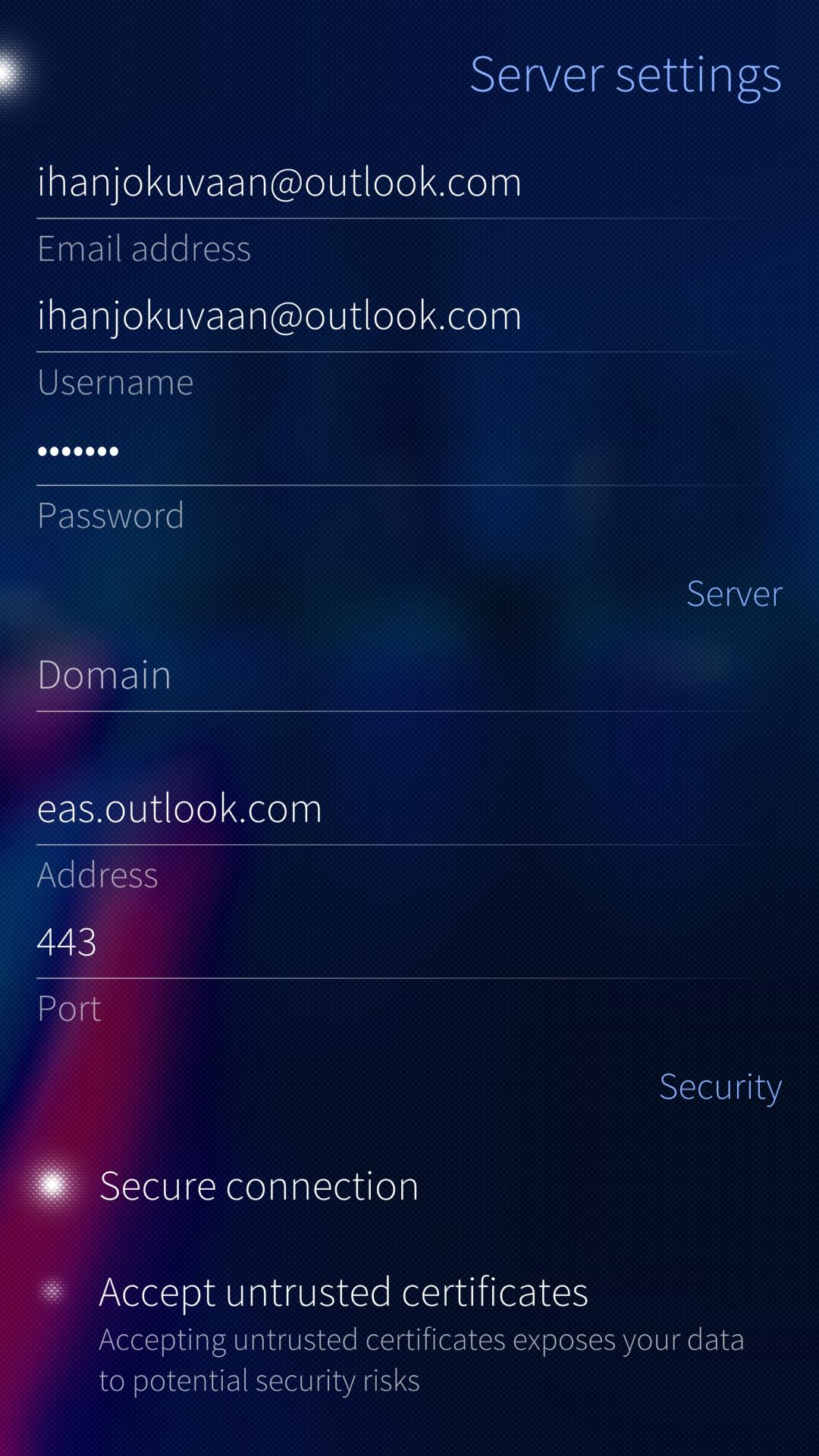 You can check your server settings by taking option "Edit server settings" from the pulley. The picture above on the right shows a typical setup.
----------------
[1] Sailfish OS 4.0.1 supports the following provisioning policies of the device lock:

- DevicePasswordEnabled
- AutomaticLocking
- MinDevicePasswordLength
- MaxDevicePasswordFailedAttempts
- MaxInactivityTimeDeviceLock