It has turned out that the following procedure often helps if something has gone wrong while preparing the device for Sailfish OS and/or while installing Sailfish OS.
These instruction were written for Xperia X. However, this should work for Xperia XA2 and Xperia 10 models, too.
Depending on the problems observed on your Xperia, it may be enough to reinstall ("reflash") Sailfish OS to it -- see this help article. However, if your Xperia cannot use the services of cellular network properly (or at all), then it may be necessary to revert the device back to Android first, and then reinstall Sailfish X.
NOTE: Reverting the device back to Android means that all data in the device memory will be deleted. Only the SD and SIM cards remain untouched.

1.
This is our plan
revert the device back to Android OS first

use your device and your SIM card with Android OS,

mobile data

in particular

re-flash Sailfish OS to the device.
2. Reverting Xperia back to Android
Reverting Xperia device back to Android requires the Emma tool from Sony. Emma requires a Windows PC to run.

Follow chapter 1, option 2 in our official Sailfish X instructions (the Windows version for Xperia X). So, even if you had an Xperia XA2 or Xperia 10, you should follow the instructions of Xperia X for using Emma.
Install Emma. Once done, it will download and install Android OS to your device. The download size is about 2.5-3 GB, so reserve time and wait patiently.

NOTE: In case of Emma, you must use the Volume DOWN button when connecting the USB cable, and you must see GREEN light on the device.

See picture 1a below. It shows the Emma view on PC once you have connected Xperia and downloaded Android (after you have clicked on "All services" button).
Select the latest "service". It has the code 34.3.A.0.nnn (where nnn must be 228 or higher) or 34.4.A.x.yyy (where x and yyy can be any number). Then click "Apply service". Emma starts to download the update which lasts quite a while as the size is about 2.6 GB (see picture 1b). Once downloaded, click the "Apply service" button.
NOTE: The code for Xperia XA2 and Xperia 10 models are different. Always take the code with the "biggest" leading part. The codes of Xperia X may change over time, too.
Picture 1a.
Picture 1b.
Picture 1c.
Picture 1c above shows how the downloaded software is flashed to your device. Picture 1d below indicates that the job was completed successfully. Picture 1e shows success for Xperia XA2 after updating the device to Android 8.1 (build version 50.1.A.13.83).

Detach the USB cable from the device now. Start the device with the Power button and run the Android start up routine where you can skip as many steps as possible (as you will soon install Sailfish OS).
Continue below the picture by doing as advised in the BLUE text, please.
Picture 1d.
Picture 1e.

THIS IS VERY IMPORTANT:
Use your Xperia device some time with Android OS. Check that phone calls can be made and received, that you can browse the internet with a mobile data connection (turn WLAN off). Then turn WLAN on and make sure you can access the internet using WLAN. Next check that the camera works. You might also want to check the touch display, loudspeaker and microphone.

See pictures 2a, 2b ja 2c below: do not forget to
Turn "Developer options" on by a quick sequence of taps on "Build number" in Settings > System > About phone.


Enable "USB Debugging" in "Settings > System > Developer options", again.

The bootloader should appear unlocked as in picture 2c. It is normal that it is greyed out (as one cannot re-lock the bootloader).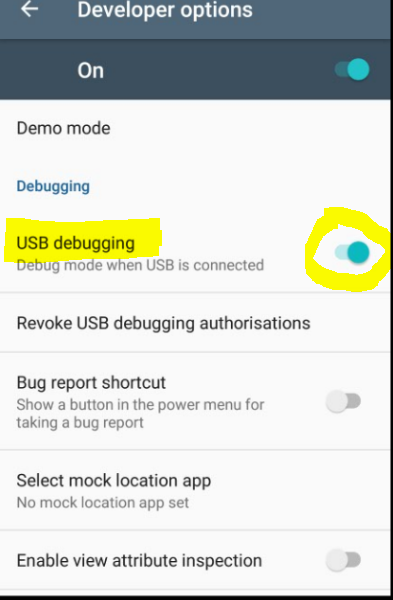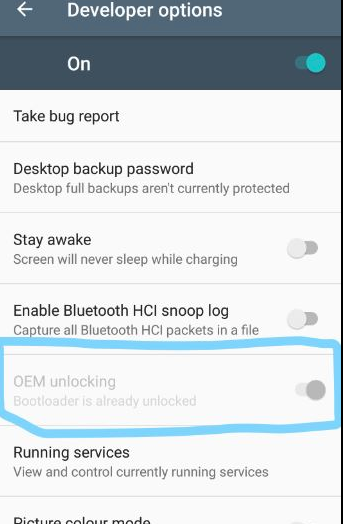 Pictures 2a, 2b and 2c.

3. Installing Sailfish X again to Xperia X, XA2 or 10

Installing Sailfish can be made with Windows, Linux or Mac computers. In the next chapters, we have pointers to our official Sailfish X instructions.
Make sure you have the latest available Sailfish OS version downloaded to your computer. If not you can download it from this repository. Please sign in to this service by using the same Jolla account that you used for buying the Sailfish X license.
Check that the contents of your Sailfish OS directory are similar to that in pictures 3a or 3b below. Note that there are two different install files for the single SIM and dual SIM Xperia X devices, and six different install files for various Xperia XA2 devices and four files for Xperia 10 devices - please ensure that you select and download the correct one for your device.

Picture 3a: Sony Xperia X single SIM (f5121)

Picture 3b: Sony Xperia XA2 dual SIM (H4113)
In particular, check that you have file "SW_binaries_for_Xperia_Android*.img" there. If missing, select the instructions applicable to you :
for Xperia X: SW_binaries_for_Xperia_AOSP_M_MR1_3.10_v13_loire.img
(if missing, visit chapter 5: Windows, Linux, Mac )

for Xperia XA2: SW_binaries_for_Xperia_Android_8.1.6.4_r1_v16_nile.img
(if missing, visit chapter 5: Windows2, Linux2, Mac2 )

Install (flash) Sailfish OS to your Xperia. Select the instructions applicable to you :


NOTE: It is Volume UP button this time and you must see the BLUE light (if green, disconnect, reconnect and try again - press the button gently).
After you have completed flashing, the printout similar to that shown in the attached PDF file should appear on your computer screen (Sailfish OS version ID will be different as time goes on).